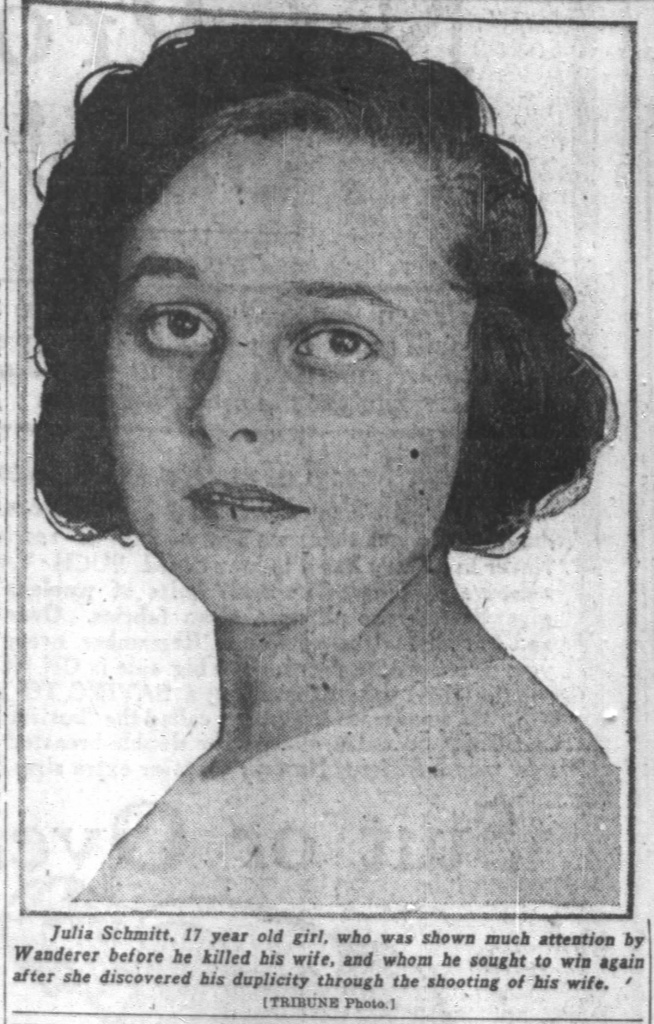 Ludwig Schmitt and his family emigrated from Germany in 1911 and he found work as a knife sharpener in Chicago. His wife Amelia, a Swiss, raised their four children. Daughter Hilda was the eldest at 23; Ludwig Jr. was 22 and finishing college; Otto was a 19-year-old clock builder; and Julia at 16 was working as a stenographer at the Stewart-Warner Speedometer factory at 1826 Diversey. The family later moved to 2648 N. Western avenue, across the street from the Wanderer butcher shop, a convenience that led to Julia frequenting the shop three to four times a week.
Julia reminded Carl of the women he had met while stationed in Germany after the armistice and was a fresh reminder to him of his freewheeling army life. While Carl flirted with her whenever she came into the shop, flirtations would be all that were exchanged as unbeknownst to Julia; Carl had a fiancée at home and a wedding to prepare for.
In June 1920, eight months after Carl had been married and with a baby on the way, Wanderer was not focused on his upcoming child as most expectant fathers might be. His attention had turned from his soon to be growing family to the soon to be 17-year-old Julia Schmitt. Their flirtations had resumed and out of earshot of his father Wanderer asked if she would accompany him to Riverview Park. She said yes.
After closing the shop on a Tuesday a couple weeks into straw hat season, Wanderer cleaned up, put on his new straw hat, and made his way across Western avenue to the Schmitt house. He met Julia at the corner of Western and Logan and caught a taxi, a rare treat for the young girl, and headed north up Western toward the amusement park.
Riverview Park had opened in 1904 and expanded nearly every year following. The park stretched from the Belmont, Western and Clybourn intersection, west along the river up to its northern border nearly to Addison. The Chutes water flume ride was a park favorite as were the Jack-Rabbit and the Roller Coaster. The park also had one of the largest carousels around, five full rings of animals to ride. The Pair-O-Chutes ride hoisted two passengers up 120 feet in the air before dropping them with a silk parachute expanding as they fell and slowing their descent. Carl and Julia rode them all. It was on the midway of the park where the couple had their photo taken together.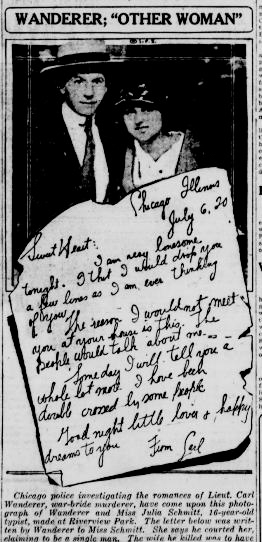 It wasn't long before Wanderer was falling for the young girl; a girl who hadn't yet hit her 17th birthday. They went out several more times, Wanderer wrote her endearing letters, and before long he kissed her. Never was spoken of the fact that he had a wife that was seven months pregnant. The young couple settled into a routine where Carl took Julia to Riverview nearly weekly. After going to the park they would always take a taxi to get home as it provided them an opportunity to trade kisses in the back of it. Grandiose tales of war and traveling Europe were told the girl. Promises were made of eloping to Crown Point Indiana for a quick wedding.
Crown Point, Indiana, about 50 miles outside of Chicago, was known as a 'marriage mill', where weddings were performed quickly, and painlessly, 24 hours a day, seven days a week. Red Grange, Rudolph Valentino and Ronald Reagan were just a few of the lovebirds, that visited the Hoosier courthouse, to be bound in matrimony. The justice of the peace in Crown Point, even took out advertising space, in the Chicago newspapers, hyping the fact, it was the ideal location for an elopement. That Carl would speak to Julia of such things, even in jest, could only mean somewhere, in the back of his mind, he had to be thinking about what he would do, with his current wife.
Julia shared with her mother a love note written to her by the young butcher who had fought overseas and was now courting her. The young soldier was clearly infatuated with the young girl but Julia assured her mother Carl had been nothing but a gentleman on their dates and taxi rides. She didn't tell her mother about Crown Point however.